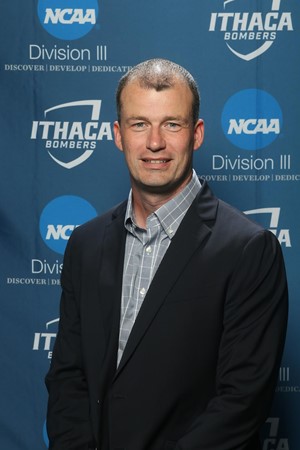 Johan Dulfer assumed the role of Head Coach at Ithaca College in March of 2016 after a decade long run of unparalleled success at Clarkson University. In only his second year at the helm, coach Dulfer saw his Bombers enjoy an outstanding 2017 with a 25-9 record, their first-ever Liberty League championship, and a magical run through the NCAA tournament that saw them advancing all the way to the Final Four. It was the deepest post season run in Ithaca's 50-year program history. In 2018, the team followed that up with another appearance in the NCAA National Championships, eventually tying for 5th in the country.
Coach Dulfer has been lucky to have coached some tremendously successful teams. In his 10 years at Clarkson, coach Dulfer orchestrated the turnaround of the Golden Knight program into a National Powerhouse. Clarkson qualified for 7 straight NCAA tournament appearances on his watch, and reached the Elite Eight 4 times in that time span (2012-2015).
Coach Dulfer believes that to create extraordinary results, you have to be willing to think -and train- outside the box. His teams are known for their high volleyball IQ, and their passionate approach to the game. Coach Dulfer was voted the Liberty League coach of the year 4 times and the New York regional coach of the year 3 times as his teams put together the most dominant resume of any team in the country in the past 7 seasons.
Coach Dulfer has coached over 15 All Americans as well as 2 Academic All Americans. Some of them started their careers by coming to the same summer camp you are thinking about signing up for!